Please note: this article is more than one year old. The views of our CIO team may have changed since it was published, and the data on which it was based may have been revised.
Our CIO Annual Outlook identifies six investment themes for 2020 as growth slows and the power of monetary policy reaches its limits.

More than a decade ago, central banks embarked on a highly unconventional monetary policy path – generally referred to as "quantitative easing". This made possible the longest recorded U.S. economic upswing in history along with a strong rise in asset prices. But can this monetary "magic" continue to work?
As we move into a new decade, the power of additional monetary policy easing appears to be fading, but a replacement has yet to be found. The growing assumption is that other forms of policy will be needed to keep the global economy on an even keel. But policymakers are far from agreeing on what exactly these new policy approaches might be, let alone how to implement them.
So, whether we like it or not, central bank "magic" will continue to play an enormous role in both economic policy and markets. Recent debate around the Fed's involvement in quasi-QE (as evidenced by its growing balance sheet) and the ECB's restarting of monthly purchases underline the fact that monetary magic is still a subject for debate.
Investors should therefore accept that, although monetary magic may be fading, we will be living with its effects, and searching for a replacement, for some time yet. This is the premise of our annual outlook for 2020 and we use six investment themes to explore the implications of this. Such an environment will remind us of the importance of strategic asset allocation (SAA) and the robustness it provides to the investment process.
We start by looking at the state of the global economy, with signs of a growth slowdown amplified by trade tensions, political concerns and other issues. With monetary policy presumed to be reaching its limits in terms of effectiveness, calls for more fiscal spending will become more vocal, but don't expect a massive fiscal boost. From an investor's point of view, this is an environment that will require a robust investment approach, an ability to focus on long-term returns and a willingness to consider alternative investment approaches. 
With central banks maintaining a very accommodative monetary policy for a lack of any alternatives, as noted above, low or negative yields should remain a reality. Hence our second theme, "Living with a low yields world". Investors should not assume that they can simply sit this out, and wait for higher yields – a considered response is necessary. In particular, you need to be sure about the reasons you are holding non-yielding bonds, and remember that risk-diversifiers are not necessarily income providers. This is an area where you may also need to consider how to capture returns from illiquidity premia in private markets for equity and debt.

Within fixed income, getting a positive absolute return will require risk, with the notable exception of U.S. Treasuries – and even these will struggle to deliver positive real returns. The task therefore is to "Find new income harbours", our third theme for 2020. Within the developed markets, looking beyond U.S. Treasuries and into the corporate space, U.S. investment grade (IG) and the European crossover segment (the borderlands between IG and high yield) are possible investment destinations. More promising might be the corporate space in emerging markets (EM), as well as sovereign holdings here, with a preference for hard currency.
Monetary magic is not over yet – but cannot do the trick alone. This environment will remind us of the importance of strategic asset allocation for portfolio robustness
Christian Nolting
Global Chief Investment Officer, Deutsche Bank Wealth Management
Equities will remain a key part of most portfolios, and we see scope for further gains here too – but with the risk of further volatility attached. From the start of 2020, we think that both regional and "style" preferences could change. As our fourth investment theme, "Balance your style", this may be the point where some high-quality "value" stocks offer real opportunities as they start to catch up with their "growth" peers – which have previously outperformed them. We would look for defensive "value" and predictable cash flow. At a sectoral level, we also see opportunities in global industrials.
FX considerations also play an important role in portfolios. Here, the question remains whether exchange rates are driven by geopolitical and political factors or by differences between central banks' monetary policies and other fundamentals. "Politics tops policy", our fifth theme for 2020, suggests that the former could win out in 2020. Pressures for intervention (in various forms) to reduce the value of the USD will continue, with the JPY's role as a diversifier still very relevant. Slowing global growth may argue against commodities overall, but there will be some opportunities, for example around gold.
We continue to think that there is an important place for investing into long-term themes within an investment portfolio that will shape and steward the world of tomorrow. Our two new themes for 2020 include a look at areas benefiting from 5G and the implications of faster communications for industrial productivity and development. We look too at resource stewardship in a world increasingly concerned about urban refuse generation and recycling rates. The interaction between technology and sustainability remains key to dealing with demographic implications.

So, what will 2020 bring? An evolving world, but not a completely different one. Central banks will remain centre stage, despite talk of the end of monetary magic. For an investor, this means that you need to reconcile yourself to living with low interest rates for some while longer and make sure that you have a robust investment process to capture the opportunities on offer. As regards investment returns, history suggests that years of sharp gains (as in 2019) are not usually followed by falls, but often instead by more modest growth – so 2020 should still be worth approaching in a positive spirit.
The report "CIO Insights Outlook 2020 – The end of monetary magic?" includes our new macroeconomic and financial market forecasts for 2020. 
To download a printer-friendly PDF of the full report, please click here.
To view a mobile-optimised version of the full report, please click here.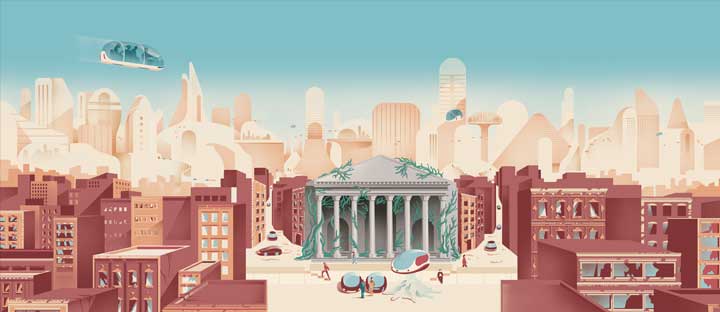 In conversation with Christian Nolting, Global Chief Investment Officer, Deutsche Bank Wealth Management.
Mobile device users listen here

The value of an investment can fall as well as rise and you might not get back the amount originally invested. The services described in this podcast are provided by Deutsche Bank AG or by its subsidiaries and/or affiliates in accordance with appropriate local legislation and regulation. Deutsche Bank AG is subject to comprehensive supervision by the European Central Bank by Germany's Federal Financial Supervisory Authority (BaFin) and by Germany's central bank ("Deutsche Bundesbank"). Brokerage services are offered through Deutsche Bank Securities Inc., a broker-dealer and registered investment adviser, which conducts investment banking and securities activities in the United States. Deutsche Bank Securities Inc. is a member of the Financial Industry Regulatory Authority, the New York Stock Exchange and the Securities Investor Protection Corporation. Lending and banking services are offered through Deutsche Bank Trust Company Americas, a member of the Federal Deposit Insurance Corporation, and other members of the Deutsche Bank Group. The products, services, information and/or materials referred to within this podcast may not be available for residents of certain jurisdictions.